---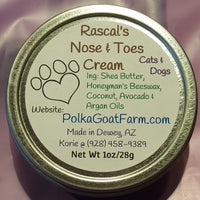 Sale
Arizona air sucks the moisture of everyone's skin including our furry friends. This cream will help your furry friend stay moisturized too. A little dab will do ya. It warms up when you touch it so it spreads on pretty easy & should soak in quickly.
I don't add essential oil because we all know they're going to try and lick it off.
Ing: Shea Butter, Honeyman's Beeswax, Coconut, Avocado & Argan Oils.