---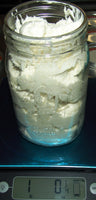 Sale
We should be out of fluff melting season : ).

Do you REALLY like your fluffy stuff? Need a bigger jar? Then here ya go :D! The quart jar holds a pound of fluffy stuff.
Add a note with the scent you'd like. 1 jar fits into a Regional Rate A box through the post office.
Cucumber Melon    Lemon Drop   Vanilla Chai    Ginger Peach   Lavender   Monkey Farts (Fruit Stripe/Zebra Gum)   Lion Burps (Black Raspberry Vanilla)   Honey Almond   Tea Tree Oil   Cherry Blossom   Bay Rum   Eucalyptus Mint   Orange Clove  
More to come soon