---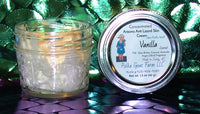 Sale
 We're out of fluff melting season : ).
Got a favorite scent? You always buy it by the quart~that's 1 pound for $15. Just refill your small jar(s) to use anywhere & store the qt in a cool spot. 
Yep, you read that right anti lizard skin is possible IN Arizona. This blend of whipped Shea Butter, Coconut Oil, Avocado Oil, Argan Oil & Fragrance Oil is rich & creamy. A little bit goes a long way! If you feel greasy you've used to much.

Customer Uses: M. at Olsen's Grain uses a hair straightener. After she's done she uses the fluff on ends of hair to keep them from drying out or frizzing.
When I use it in the morning I'll leave my skin a little damp it helps the fluff go on a little thinner and lighter.
I like to use it at night when I can "goop" up and moisturize while I sleep ;). For my feet I use the solid lotion bar first then fluff it's a great combo, especially if you like to be barefoot.
All jars are filled by weigh & by hand~using a spatula ; ) there will probably air space. But have no fear you're getting every bit of fluffy you paid for.