---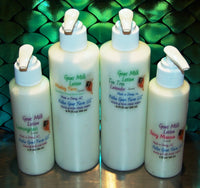 Sale
The lotion is my go to moisturizer in the morning. It soaks in pretty fast. It's also AZ summer temp friendly~ YAY! That means it's travel & shipping friendly :D!
I was gifted a large quantity of lotion pump bottles. I don't know if I'll continue this size after they're gone. It depends on the demand for this size...we'll see.
New Scents:                                                                                                                                                                     

Berry Mimosa- berry scented with a little...zing                                                   
Dune Grass- blend of bamboo leaf and lemon verbena with a dash of bergamot & lush orchid~ it's a great his & hers scent even kids like it.
Ing: Goat Milk, Distilled Water, Avocado
Oil, Emulsifying Wax, Shea Butter, Steric
Acid, Argan Oil, Phenonip & Fragrance
Emulsifying Wax: Stops the milk, water & oils from separating
Steric Acid: Thickener
Phenonip: Keeps the lotion from molding or growing bacteria