---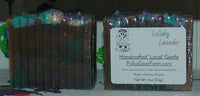 Sale
Lavender without the strong perfuminess yet oh so relaxing! This is how it looks after cutting into bars. Or you can buy the whole loaf!
Lavender fragrance oil has a high vanilla content. It turns brown on its own but will not created brown suds.
Lavender is right up there with Patchouli as being NOT my favorite. I tried about 8 different oils before I found one that I LIKED. I have to say it was worth the wait. I'm not the only one who says I can't stand lavender but I like this one.
The label will say 4oz bar. Legally the bar can weigh more than what the label states but can NOT be under the label weight. So 1/8 of an ounce makes a difference and when you're labeling 15-20 pounds of soap or 54-72 bars it makes bulk labeling WAAAY easier ;).